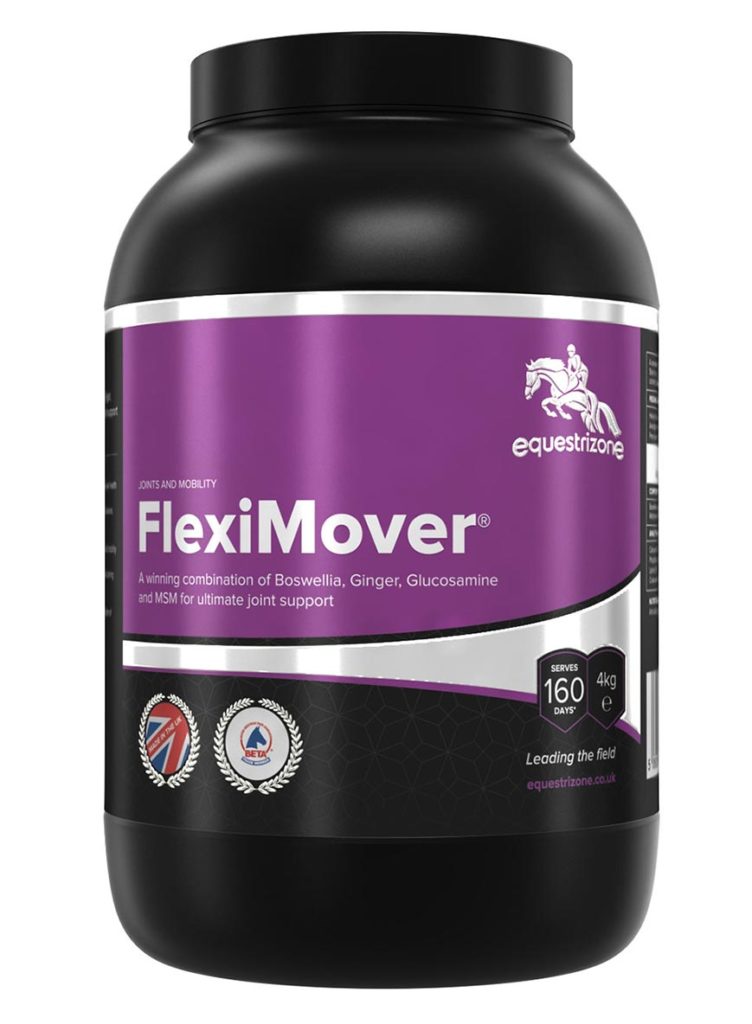 FLEXIMOVER® 2.5KG TUB
A winning combination of Boswellia, Ginger, Glucosamine and MSM for ultimate joint support
✓ Supports musculoskeletal system and navicular health
✓ Supports the body's anti-inflammatory mechanisms and responses
✓ Naturally sustains joint elasticity and all-round mobility
✓ Essential for hard working horses and those coming back into work following time off
✓ Maintains joint health, suppleness and freedom of movement

Equestrizone FlexiMover® is a powerful joint supplement with a novel formulation. Older horses who struggle in cold and/or damp weather, becoming stiff, will benefit from the powerful effects of FlexiMover®, and it is also ideal for hard-working horses during time off after injury.
Stabling can exacerbate stiffness in older horses or those with joint challenges, and FlexiMover® is ideal in these cases.
FlexiMover® is a powerful joint supplement for aiding comfort and mobility in hard-working or older horses. FlexiMover® is a blend of FOUR potent ingredients in one great value-for-money product – with no added fillers or bulkers. Our competitive price means you get all this from 75p per day (based on 4 kg/133 day).
FlexiMover® contains:
Boswellia (Boswellia serrata)
Ginger (Zingiber officinale)
Glucosamine hydrochloride
Methylsulfonylmethane (MSM)
Together, these four joint supportive nutrients work synergistically to give you optimum results in your horse.
FlexiMover® is:

Safe for long-term use
Safe for competition use
Feed FlexiMover® to:
Older horses with general stiffnesss
Older horses who require extra mobility support
Older horses who struggle in the cold weather, becoming stiff
Hard working horses during time off after injury
Naturally sustain joint elasticity and all-round mobility
Support musculoskeletal and navicular health
Support natural healing after ligament and tendon injury
Support the body's natural anti-inflammatory and pain mechanisms/responses
For best results:


FlexiMover® should be fed with NatureBute® Solution for the fastest, most efficient results. After a month, some horses can be maintained on FlexiMover® alone. NatureBute® Solution can then be added when and if necessary, for extra support. Both are safe to feed together long term.
FEEDING DIRECTIONS G PER DAY

SCOOPS PER DAY
Heavy horse (700 kg and over) 37.5 - 50 1.5 - 2

Average horse (400 - 700 kg) 25 - 37.5 1 -1.5

Pony (up to 400 kg) 12.5 - 25 0.5 - 1

A 1kg tub fed at 25g per day will last 40 days

A 2.5kg tub fed at 25g per day will last 100 days

A 4kg tub fed at 25g per day will last 160 days

1 x heaped 25ml scoop (enclosed) = 25g

6.25g of Boswellia, Glucosamine, MSM and Ginger per 25ml scoop

COMPOSITION
Boswellia (Boswellia serrata), Glucosamine hydrochloride, Methyl Sulphonyl Methane (MSM), Ginger (Zingiber officinale)
ACTIVE INGREDIENTS PER DAILY SERVING (1x 25ml scoop/ 25g)

Ingredient Active % G per scoop Actives per scoop

MSM 100 25 25

Glucosamine 83 25 20.75

Ginger 100 25 25

Boswellia 100 25 25
Calcium 0.2%

Phosphorus 0.1%

Lysine 0.1%

Crude ash 10.8%
Crude protein 17.7%

Crude fibre 8.4%

Crude oils and fats 1.9%

Sodium 0.03%

COMPOSITION PER 2.5KG TUB AMOUNT IN G

Boswellia (Boswellia serrata) 625

Glucosamine hydrochloride 625

Methyl Sulphonyl Methane (MSM) 625

Ginger (Zingiber officinale) 625