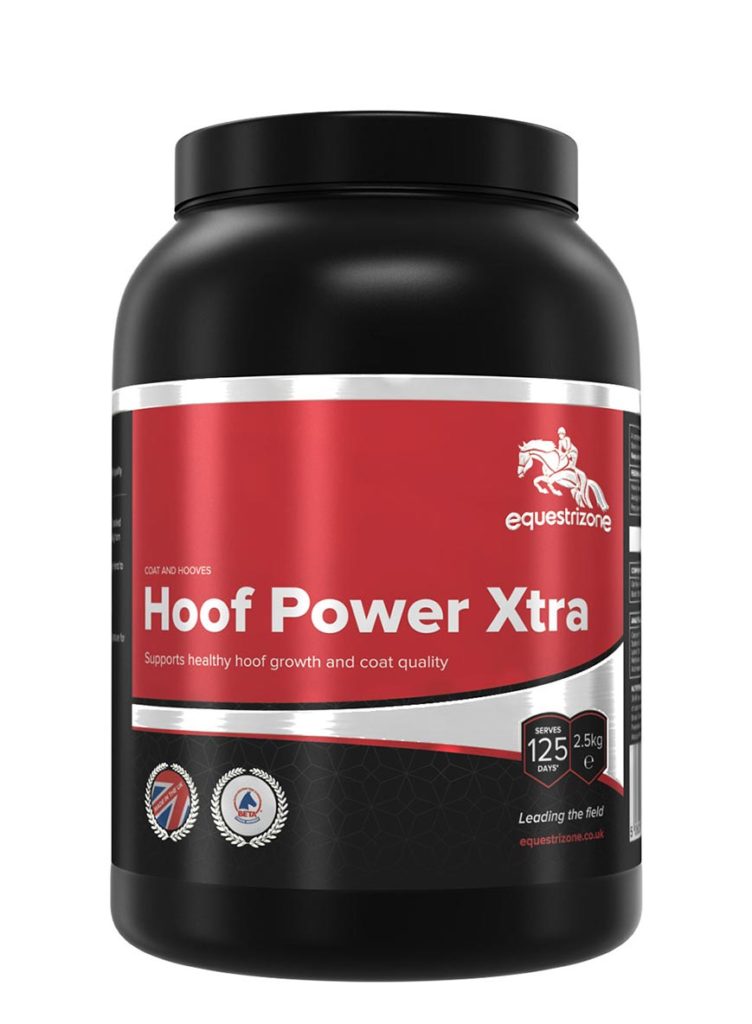 HOOF POWER XTRA 2.5KG TUB
Supports healthy hoof growth and coat quality
✓ Horses with brittle, crumbling or cracked walls, poor soles and slow growing horn
✓ Horses that are shod frequently or tend to pull their shoes off regularly
✓ Supports healthy hoof laminae
✓ Horses that rely on poor-quality pasture for a proportion of their diet
✓ Maintains a healthy coat

Equestrizone Hoof Power Xtra is the ultimate hoof supplement. It combines high levels of biotin with essential minerals zinc and copper, essential amino acids methionine and lysine, and natural alfalfa, which will help your horse grow strong hoof walls and have excellent coat quality. The synergistic combination of these ingredients at optimal levels is a powerful blend giving better results for hooves, skin and coat than biotin alone.


Hoof and hair is made of a dense protein called keratin, and the amino acids, nutrients and minerals in Hoof Power Xtra are essential for strong, durable keratin. Keratin relies on sufficient sulphur to maintain its strength and resilience, and the essential amino acid methionine is a rich source of sulphur. In addition, lysine is the amino acid most often deficient in equine diets, so shortages will limit the helpful effects of biotin.
Zinc and copper are essential minerals that both play roles in keratin synthesis. Copper is also required for enzymes that are involved in the formation of bonds in collagen fibres and in skin and hair pigments. Low zinc concentrations in hoof horn have been associated with decreases in strength and hardness.


Hoof Power Xtra contains optimal levels of these active ingredients:
Biotin, which is clinically proven to improve hoof growth and is key for a healthy skin and coat

Lysine – the most important essential amino acid and a key building block for protein

Methionine – a sulphur-containing essential amino acid which is needed for hoof strength

Zinc and copper – vital nutrients for healthy hooves, skin and hair

A palatable alfalfa base, which provides extra calcium and other minerals
Hoof Power Xtra is a concentrated supplement, meaning your horse gets high levels of active ingredients but without large or loading servings. One daily serving (25 g) supplies 40 mg of biotin for horses, which is necessary for optimal results in even the most challenged hooves. 5 g of methionine and 4 g of lysine are included per 25 g serving, along with zinc and copper in a balanced ratio.
Feed to:
Horses with hoof challenges including brittle, crumbling or cracked walls, poor soles and slow growing horn

Horses that are shod frequently or tend to pull their shoes off regularly

Support healthy hoof laminae

Horses which rely on poor-quality pasture for a proportion of their diet

Help with a healthy haircoat
Hoof Power Xtra should be fed long-term for best results, because it will affect mostly the growth of the new hoof wall, and the hoof takes between six and twelve months to totally regrow. After the hoof quality improves, you can reduce the daily serving by half, and feed it long term to support healthy hooves.
FEEDING DIRECTIONS G PER DAY SCOOPS PER DAY

Heavy horse (700kg and over) 25 - 35 1 - 1.5

Average horse (400 - 700kg) 20 - 30 1 - 1.5

Pony (up to 400kg) 10 - 20 0.5 - 1
A 1.5kg tub fed at 20g per day will last 75 days

A 2.5kg tub fed at 20g per day will last 125 days

A 4kg tub fed at 20g per day will last 200 days

1 x level 25ml scoop (enclosed) = 20g

COMPOSITION

Oat feed, Alfalfa, Sodium chloride.Biotin: 1600mg/kg or 32mg per 20g serving
ACTIVE INGREDIENTS PER DAILY SERVING
| | | | |
| --- | --- | --- | --- |
| Nutrient | Unit | Amount per kilo | Amount per serve |
| Biotin | mg | 1600 | 32.0 |
| Copper | mg | 2000 | 40.0 |
| Zinc | mg | 10000 | 200.0 |
| Lysine | g | 125 | 2.5 |
| Methionine | g | 200 | 4.0 |
| Clinoptolite Clay | g | 100 | 2.0 |
| Salt | g | 12.3 | 0.2 |
ANALYTICAL CONSTITUENTS

Calcium 0.7%

Sodium 0.5%

Lysine 12.6%

Methionine 20.0%

Acid insoluble ash 10%
Crude ash 16.3%
Crude fibre 11.1%

Crude protein 33.0%

Crude oils and fats 1.0%

NUTRITIONAL ADDITIVES:
Biotin (3a880) 1,600mg/kg, Zinc 10,000 mg/kg (as 38,461 mg of zinc chelate of glycine hydrate, E6), Copper 2,000 mg/kg (as 8,333 mg of cupric chelate glycine hydrate, E4) Binder:Clinoptolite clay (1g568) 100mg/kg Preservative: Calcium propionate (E282) 400mg/kg
Mixture of flavouring compounds

A complementary feed material for horses. Store in a cool, dry place. Replace lid securely to avoid deterioration of contents. Keep out of reach of children