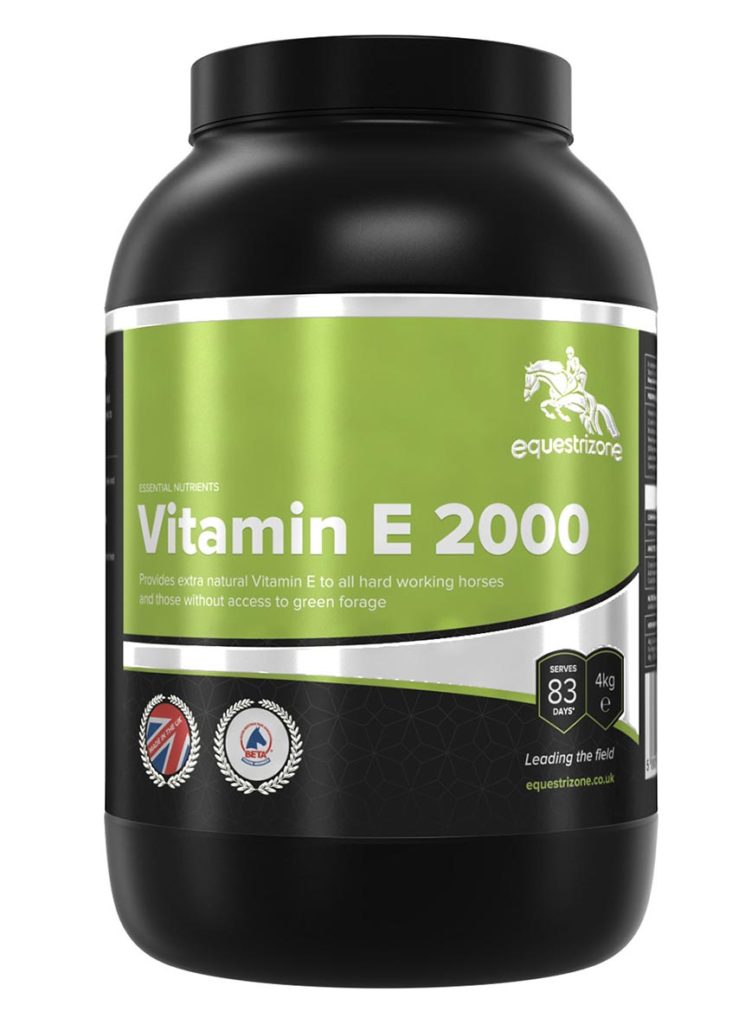 VITAMIN E 2000 2KG TUB
Provides extra natural Vitamin E to all hard working horses and those without access to green forage
✓ Powerful antioxidant for all hard-working horses and ponies
✓ Feed to broodmares, stallions and growing youngstock
✓ All horses and ponies with restricted access to fresh green pasture
✓ Horses on a high-oil diet

Vitamin E for horses – a fat soluble vitamin – is one of the body's most important antioxidants, which is vital for the integrity of cell membranes. It traps reactive oxygen species, neutralizing free radicals, and is especially important for healthy muscle and nerve cells. It is also important for the function of the gonads (the testes and the ovaries) so it is vital for reproduction. Vitamin E is also involved in growth and repair of body tissues and in immune function.
The richest source of vitamin E in the horse's diet is fresh green pasture, and levels are depleted in hay and haylage. Many compound feeds supply suboptimal levels of vitamin E so it should be supplemented where a horse has restricted access to fresh green pasture, and when their requirements are high e.g. hard work and breeding.
Equestrizone's Vitamin E 2000 has been formulated to provide the extra vitamin E required by horses in a variety of situations; most commonly hard working horses, breeding stock and those without access to green forage. The vitamin E our supplement contains is natural, which has many advantages over cheaper synthetic vitamin E. Synthetic vitamin E is not absorbed as easily or as completely as natural vitamin E. The bioavailability of naturally-sourced vitamin E is believed to be twice that of synthetic vitamin E. Natural vitamin E also stays in the body longer than synthetic vitamin E.
Natural vitamin E has a higher activity than synthetic, so 1 mg of natural gives 1.36 IU of vitamin E activity. Equestrizone Vitamin E 2000 therefore has 2720 IU of vitamin E activity in a 48 g daily serving.
Performance horses on limited turnout and overweight horses or ponies (or those prone to gaining weight) who have their grass intake restricted will benefit from Equestrizone Vitamin E 2000, replacing the vitamin E they are not getting from fresh green grass.
The body tissues of hard-working horses undergo cycles of microdamage and repair and produce higher levels of pro-oxidant free radicals compared to those of resting horses or those in light work. Working horses need higher levels of antioxidants to support musculoskeletal, respiratory and cardiovascular health, and Equestrizone Vitamin E 2000 is ideal for this purpose.
The natural Vitamin E in our Vitamin E 2000 is mixed with a pure dextrose base, making it easy-to-feed and very palatable. It can be added on top of Pegavite® for horses and ponies on less than the full recommended amount of compound feed.
Feed to:
All hard-working horses and ponies

Broodmares, stallions and growing youngstock

All horses and ponies with restricted access to fresh green pasture

Horses and ponies on very restricted forage and hay soaked for over 10 hours
FEEDING DIRECTIONS
G PER DAY
SCOOPS PER DAY
Horses in hard work/training
(2 years and older) (500kg)
48
3
Broodmares & stallions (500kg)
48
3
Weanlings and yearlings
(500kg mature weight)
32
2
Leisure horses
32
2
Overweight horses on restricted pasture
32
2
A 2kg tub fed at 48g per day will last 41 days
A 4kg tub fed at 48g per day will last 83 days
1 x level 25ml scoop (enclosed) = 16g
COMPOSITION
Dextrose, vitamins
ACTIVE INGREDIENTS PER DAILY SERVING (48g -3scoops)
Nutrient Unit Amount per kilo Amount per serve
Vitamin E mg 40000 192
ANALYTICAL CONSTITUENTS
Crude oils and fats 4.0%
Acid insoluble ash 8.4%

Crude fibre 0.0%
Crude ash 8.6%
Sodium 0.05%

Crude protein 0.0%

NUTRITIONAL ADDITIVES: Natural Vitamin E 54,400 IU (as 40,000 mg RRR-alpha-tocopheryl acetate, e3a700) Anti-caking agent: Silica (E551b) 5,000mg/kg
HOW MUCH VITAMIN E IS IN ONE 48G SERVING?

48g (3 x 25 ml scoops) = 1920mg Equestrizone natural vitamin E

For Natural Vitamin E (3a700 RRR-alpha-tocopheryl acetate), 1 mg = 1.36 IU so:

48g = 2,720 IU of vitamin E activity

A complementary feed material for horses. Store in a cool, dry place. Replace lid securely to avoid deterioration of contents. Keep out of reach of children