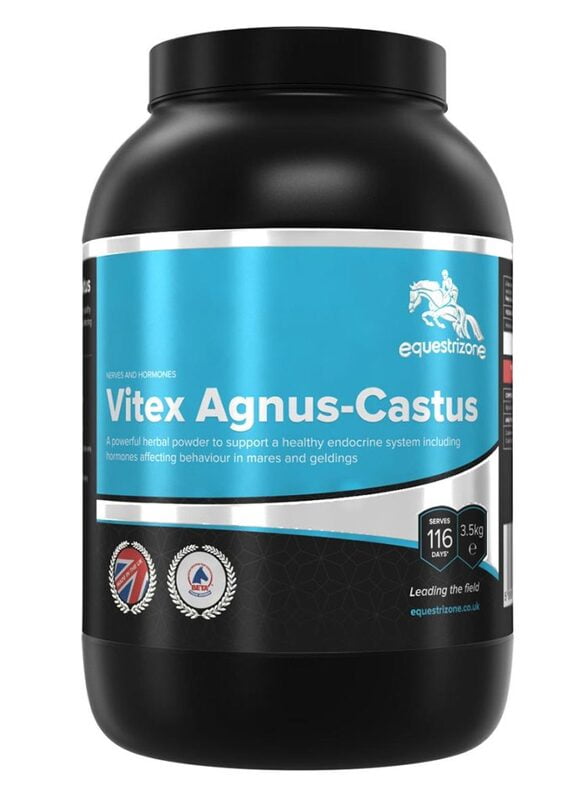 VITEX AGNUS CASTUS 3.5KG TUB
A powerful herbal powder to support a healthy endocrine system including hormones affecting behaviour in mares and geldings
✓ Moody and hormonal mares
✓ Helps promote normal behaviour in mares and geldings
✓ Geldings showing stallion-like behaviours
✓ Mares that need help establishing regular cycles early in the breeding season
✓ Promotes a healthy endocrine system, particularly useful to support older horses

Vitex agnus-castus is a powerful herbal supplement which is especially helpful for moodiness in mares caused by hormones, and for horses with Cushing's syndrome (also called pituitary pars intermedia dysfunction or PPID).
Equestrizone's Vitex agnus-castus consists of the dried berries, or fruits, also known as chasteberry, powdered. It works on the pituitary gland to support the body's endocrine system thereby supporting metabolic function. In this way it helps support vitality, normal coat shedding, balanced hormones, good immune function, a healthy circulation, healthy hooves and appropriate energy levels in horses with signs of pituitary gland stress and mares with hormonal imbalances.
Vitex agnus-castus is a natural nutritional supplement that supports the body's endocrine system via the pituitary gland and hypothalamus. In this way, it supports the body's normal hormonal activity and responses. It can be used long-term after a fast-acting course of either No Moody No® or Cushy-VX®.
Vitex Agnus Castus for horses is:

A natural product

Safe for long-term use

Safe for competition use
Feed Vitex agnus-castus to:
Mares who need help establishing regular cycles early in the breeding season

Horses and ponies with Cushing's syndrome (PPID) and EMS

Manage Cushing's disease in horses and ponies

Horses and ponies with excessive hair growth due to a compromised endocrine system

Any horse showing aggressive or uncooperative behaviour

Geldings showing stallion behaviours such as aggression and mounting

Stallions to maintain excellent sperm quality
FEEDING DIRECTIONS G PER DAY SCOOPS PER DAY
Horses and ponies 15 - 45 0.5 - 1.5
A 1kg tub fed at 30g per day will last 33 days
A 3.5kg tub fed at 30g per day will last 116 days
1 x level 50ml scoop (enclosed) = 30g

DO NOT SUPPLEMENT TO PREGNANT MARES OR THOSE DUE TO CONCEIVE

KEEP OUT OF THE REACH OF CHILDREN
Agnus castus berries (Vitex agnus-castus) ground and powdered
Crude ash <6.0%
Crude oils and fats 3.3%

Crude fibre 27.8%
Crude protein 3.0%
A feed material for horses. Store in a cool, dry place. Replace lid securely to avoid deterioration of contents. Keep out of reach of children