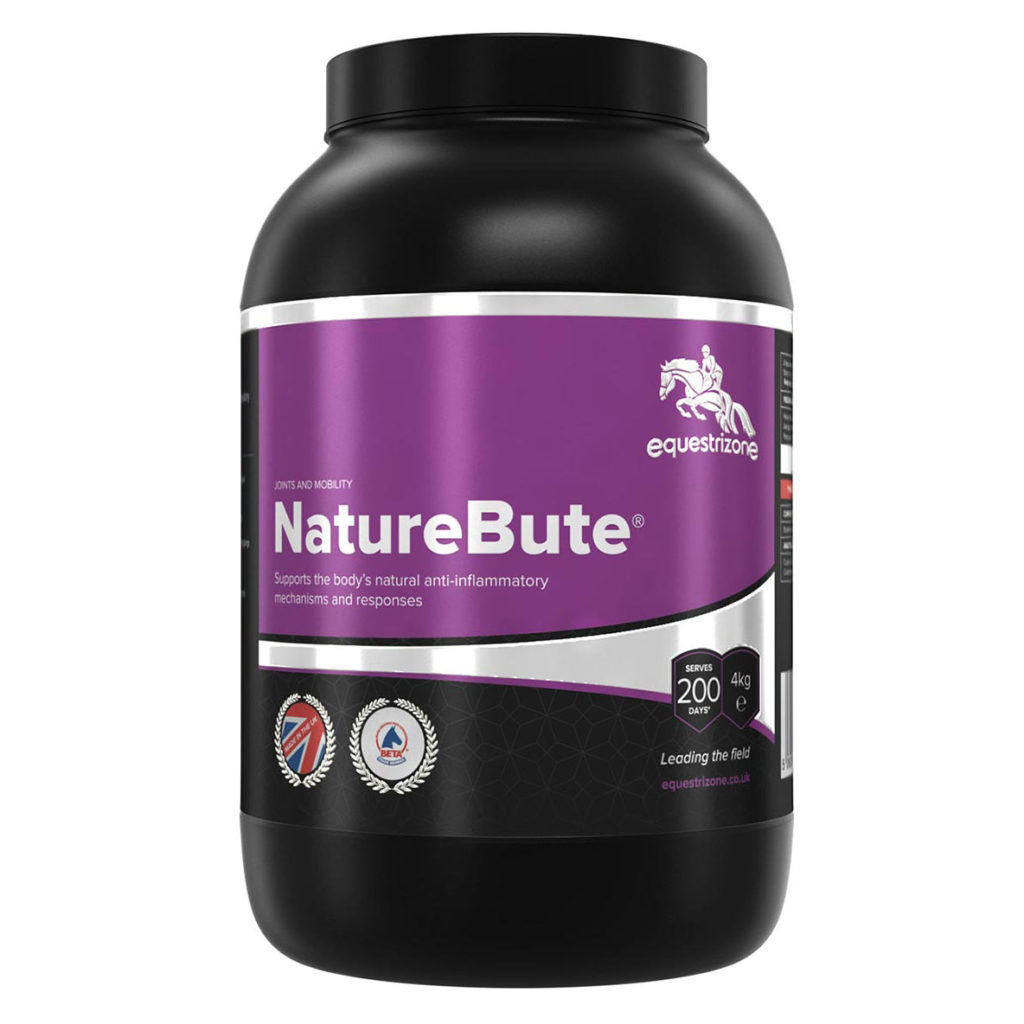 NATUREBUTE® POWDER 2.5KG TUB
✓ Maintains joint health, suppleness and freedom of movement
✓ Aids the body's natural anti-inflammatory responses
✓ Supports colon health and firms up loose droppings
✓ Soothes breathing
✓ A natural herbal product, safe for long term and competition use

Equestrizone's NatureBute® contains 100% Boswellia serrata, to support the musculoskeletal system and maintain optimum mobility.
On its own – or in combination with other ingredients – boswellia for horses offers a gentle, natural solution for hard-working joints, muscles, ligaments and tendons. NatureBute® supports the body's natural anti-inflammatory and pain mechanisms/responses. In addition, Boswellia serrata does not have the damaging effects on cartilage that long-term use of medical treatments can have.
NatureBute® soothes the gastrointestinal tract, helps maintain normal colon function and supports good respiratory health. NatureBute® is available to buy as a fine powder or a concentrated liquid, to be administered orally and mixed with the feed.
One big advantage of supplementing your horse's diet with NatureBute® is that many owners report positive effects very quickly – within four to five days for most and within ten for others.
NatureBute® is:
A natural product

Safe for long-term use

Safe for competition use
Feed NatureBute® boswellia for horses to:
Aid maintenance of the body's natural anti-inflammatory mechanisms/responses

Aid maintenance of the body's natural pain mechanisms/responses

Maintain suppleness and freedom of movement

Nutritionally support ligament, tendon and joint health

Naturally sustain joint elasticity and all-round mobility

Support the structures of the feet

Support colon health and firm-up loose droppings

Soothe compromised breathing
FEEDING DIRECTIONS G PER DAY SCOOPS PER DAY
Heavy horse (700 kg and Over) 40 2
Average horse (400 - 700 kg) 20 - 40 1 - 2
Pony (up to 400 kg) 10 - 20 0.5 -1
A 1kg tub fed at 20g per day will last 50 days
A 2.5kg tub fed at 20g per day will last 125 days
A 4 kg tub fed at 20g per day will last 200 days
1 x level 25ml scoop (enclosed) = 20g
THERE IS NO EVIDENCE TO SUPPORT LOADING THIS SUPPLEMENT
A feed material for horses. Store in a cool, dry place. Replace lid securely to avoid deterioration of contents. Keep out of reach of children.
100% Boswellia (Boswellia serrata) powder