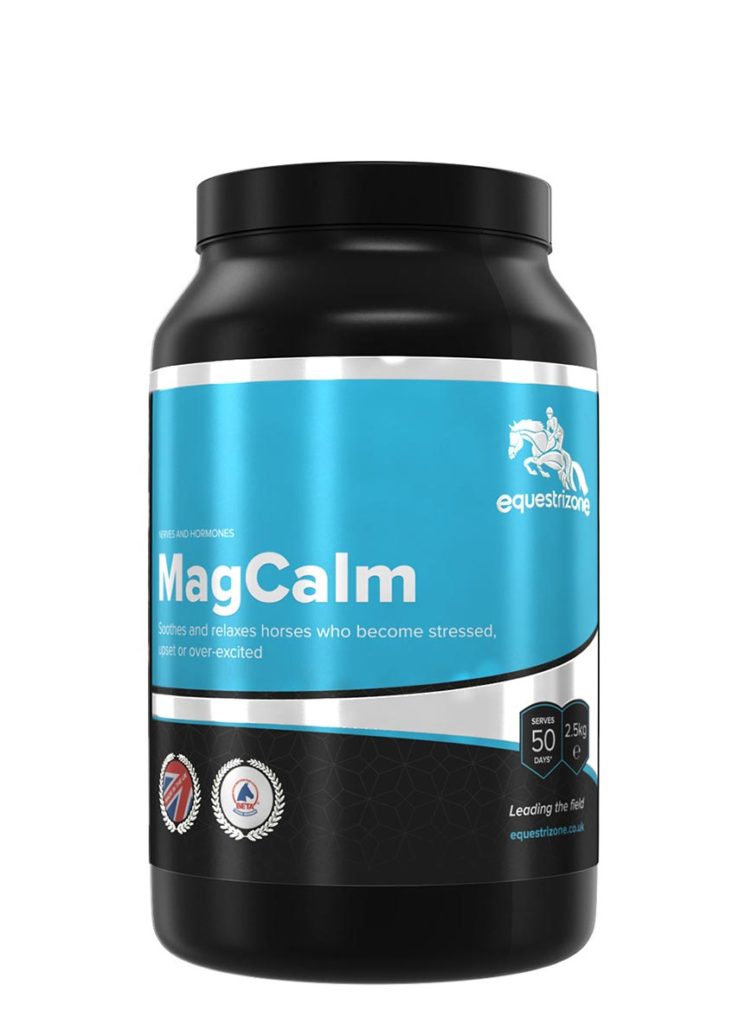 MAGCALM® 2.5KG TUB
✓ Nervous, excitable and tense horses
✓ Aids concentration
✓ Aids relaxation
✓ Horses challenged by training or travelling
✓ Horses that need help settling into a new environment
Equestrizone's MagCalm is a natural calming supplement which combines magnesium and potassium in equal quantities to soothe and relax horses who become anxious, upset or over-excited.
The magnesium content of MagCalm can also help support stamina, endurance, vitality and energy levels.


Potassium is important for proper function of the nerves and muscles. Potassium stimulates the nerve impulses which make muscles contract properly. It also helps to regulate water levels – stimulating the kidneys to eliminate waste and keeping the skin healthy.
The diets of many horses can be low in magnesium, and potassium can be lost when hard-working, or over-heated, horses sweat a lot. Supplementing with MagCalm is a great way to replace these lost minerals.


Feed to:
Nervous, excitable and tense horses

Horses challenged by training or travelling

Horses that need help settling into a new environment

Horses who need extra muscle support

Hard-working horses who lose potassium through excessive sweating

Horses fed on a high-grain/low-forage diet – which may be low in magnesium
FEEDING DIRECTIONS G PER DAY SCOOPS PER DAY
Heavy horse (700 kg and over) 75 1.5
Average horse (400 - 700kg) 50 1
Pony (up to 400kg) 25 0.5
A 750g tub fed at 50 g per day will last 15 days
A 1.5kg tub fed at 50 g per day will last 30 days
A 2.5kg tub fed at 50 g per day will last 50 days
1 x 50ml scoop (enclosed) =50g

Wheat feed, Magnesium oxide, Magnesium amino acid chelate, Mint
ACTIVE INGREDIENTS PER DAILY SERVING (50g)
Nutrient Unit Amount per kilo Amount per serve

Vitamin B1 mg 20000 1000
Vitmain B6 mg 8000 400
Live Yeast g 100 5
Lysine g 100 5
Arginine g 60 3
Magnesium g 122 6.1
Crude ash 21.8%
Crude oils and fats 1.91%
Crude fibre 3.52%
Crude protein 40.94%
L-lysine (3.2.3.), 100,000mg/kg, L-arginine (3c3.6.1.), 60,000mg/kg, Vitamin B1 (as thiamine mononitrate, 3a821), 20,000mg/kg, Vitamin B6 (as pyridoxine hydrochloride, 3a831), 8,000mg/kg.

Gut flora stabiliser: Saccharomyces Cerevisiae CNCM 1-1077, (4b1710) 100,000mg/kg

Mixture of flavouring compounds

A complementary feed material for horses. Store in a cool, dry place. Replace lid securely to avoid deterioration of contents. Keep out of reach of children