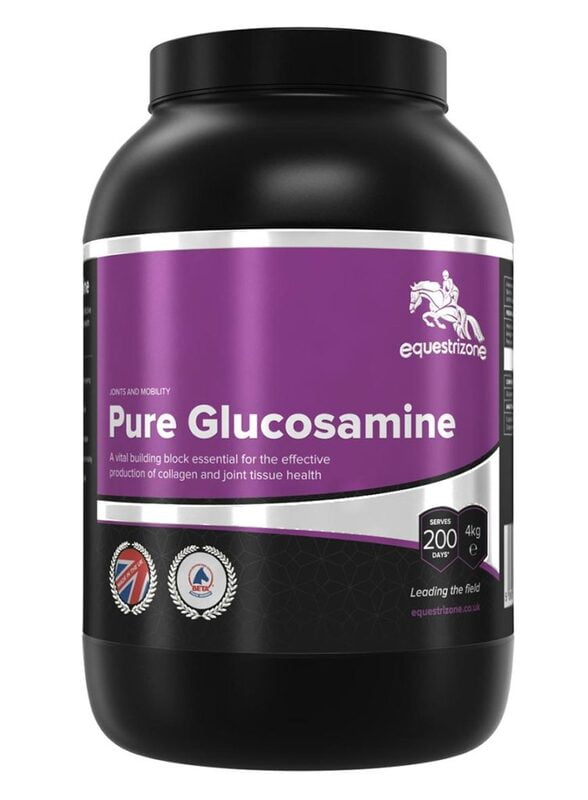 PURE GLUCOSAMINE 4KG TUB
A vital building block essential for the effective production of collagen and joint tissue health
✓ Horses that need extra joint support, such as ageing horses
✓ Supports long-term mobility, especially in hard working and performance horses
✓ Nutritionally supports ligament and tendon health
✓ Naturally sustains joint elasticity and all-round mobility
✓ Supports musculoskeletal and navicular health

Glucosamine is one of the most popular and useful equine joint supplements. Glucosamine is a sugar-containing compound produced in the bodies of animals, and humans, from glucose. It is suitable for long-term use because glucosamine is a natural substance found in the body and has no known side-effects. It can safely be taken alongside other supplements and herbs. Glucosamine also has the advantage of being readily bioavailable and easy to administer.


Glucosamine hydrochloride is a vital building block in the body essential for the healthy and effective production of collagen and other key joint tissue components.

A horse's joints are designed to efficiently absorb shock, allow smooth, comfortable movement, and bear the weight of the horse's body. There are three different types of equine joints: fibrous, cartilaginous, and synovial.
Fibrous joints are more or less immobile. They include joints in the skull and those between the shafts of some long bones

Cartilaginous joints have limited movement. These are the joints of the pelvis and vertebrae as well as growth plates, which extend a bone's length during the horse's growing years

Synovial joints are the most active joints in the horse's body. They consist of two bone ends covered by a smooth, thin layer of resilient articular cartilage. You will find them in the fetlock, knee, elbow, hock, and stifle joints. These are joints which do a lot of work and suffer the most wear and tear
Synovial fluid is important to keep the joint nourished, well-lubricated, moving comfortably. Glucosamine is essential so that the body can produce enough of this fluid in high quality. A key ingredient in synovial fluid is hyaluronic acid, also known as sodium hyaluronate or hyaluronan, which lubricates the synovial membrane. Glucosamine for horses is a precursor, or building block, for hyaluronan.
Old age, injuries or a stressful, busy workload and lifestyle can all result in your horse's natural supplies of glucosamine running down. The articular cartilage, which surrounds the joint, can then be affected and become damaged and roughened, losing its smooth surface.
Normal articular cartilage is made up of cells called chondrocytes which produce and regulate the much more abundant matrix. The matrix is composed of a tough protein called collagen surrounded by proteoglycan. Proteoglycan allows articular cartilage to hold a lot of water which it needs in order to allow virtually frictionless movement between the bones. Proteoglycan is made up of protein and glycosaminoglycans (GAGs). These GAGs are produced by the chondrocytes – and glucosamine hydrochloride is the building block of articular cartilage GAG.
Taking a glucosamine supplement has been found to support the performance of joints and also to aid the body's natural responses to pain or discomfort.
Young, as well as old horses can have issues with joint health, and therefore benefit from the supportive effects of glucosamine. Both developmental disorders and injuries can affect younger horses, and glucosamine helps support the re-building of collagen within the joint cartilage.
Pure Glucosamine is:
Safe for long-term use
Safe for competition use
Feed Pure Glucosamine to:

Horses who need extra joint support

Support long-term mobility, especially in hard working and performance horses

Aging horses, to support comfortable joint mobility

Nutritionally support ligament, tendon and joint health
FEEDING DIRECTIONS G PER DAY SCOOPS PER DAY
Heavy horse (700 kg and Over) 20 - 40 1 - 2
Average horse (400 - 700 kg) 20 1
Pony (up to 400 kg) 10 0.5
A 1.5kg tub fed at 20g per day will last 75 days
A 2.5kg tub fed at 20g per day will last 125 days
A 4kg tub fed at 20g per day will last 200 days
1 x level 25ml scoop (enclosed) = 20g
100% Glucosamine hydrochloride from aquatic animals, predominantly crayfish

ACTIVE INGREDIENTS PER DAILY SERVING
Daily serving of 20g (1 scoop)

Active % Grams per scoop Actives per scoop (g)

83 20 16.6

ANALYTICAL CONSTITUENTS

Crude Ash 25.0%

Crude oils and fats <0.5%

Chlorine 16.0%

Crude protein 45.0%

A feed material for horses. Store in a cool, dry place. Replace lid securely to avoid deterioration of contents. Keep out of reach of children