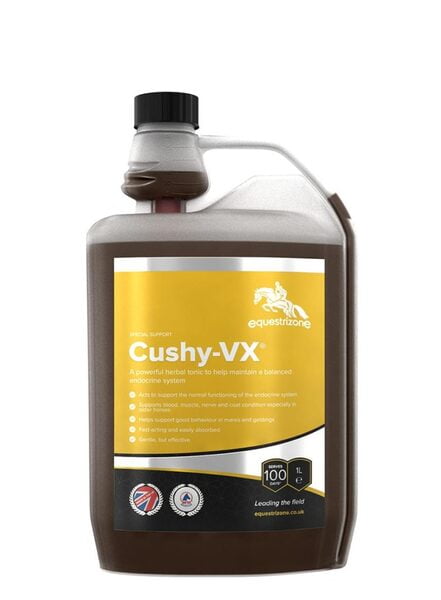 CUSHYVX® 1L BOTTLE
A powerful herbal tonic to help maintain a balanced endocrine system
✓ Acts to support the normal functioning of the endocrine system
✓ Supports blood, muscle, nerve and coat condition especially in older horses
✓ Helps support good behaviour in mares and geldings
✓ Fast-acting and easily absorbed
✓ Gentle, but effective
Equestrizone Cushy-VX is a powerful tincture of Vitex Agnus Castus, also known as chasteberry or vitex. Vitex Agnus Castus supports the endocrine system including the pituitary gland, which regulates metabolic function. Other benefits of feeding Chasteberry include health and vitality support, normal coat shedding, healthy hormone secretion, immune function, circulation, healthy hooves and natural energy levels.
Cushy-VX is a natural nutritional supplement which supports the body's endocrine system via the pituitary gland. Ideally feed along with antioxidant vitamins, such as Vitamin E and Vitamin C, to support natural antioxidant levels.

For best results, consider the following dietary advice to support healthy pituitary function:

Maintain a healthy bodyweight, neither too fat nor too slim

Feed a well-balanced diet, including elevated levels of antioxidant vitamins

Feed appropriate fibre-based feeds

Limit starch, sugar and fructan intake i.e. limit grass intake, feed hay/haylage with a water soluble carbohydrate content of 10% or less and avoid coarse mixes and other starchy feeds
Cushy-VX® is:
A natural product

Fast-acting

Safe for long-term use
Feed Cushy-VX® to:
Horses and ponies to support normal coat shedding, normal coat growth and condition

Older horses and ponies requiring nutritional support to the endocrine system
FEEDING DIRECTIONS (ML PER DAY)
Horses 5 - 10ml twice a day
Ponies 5 ml twice a day
1 litre fed at 10ml per day will last 100 days
Cushy-VX® can be used alongside other supplements. The suggested feeding rates may be increased if necessary and adjusted to suit the individual, they are not necessarily related to body weight. Please seek veterinary advice if you are unsure
*DO NOT SUPPLEMENT TO PREGNANT MARES OR THOSE DUE TO CONCEIVE*
ANALYTICAL CONSTITUENTS

Crude ash <0.1%
Crude fibre <0.1%
Crude oils and fats <0.1%
Crude protein <0.1%
A complementary feed material for horses. Store in a cool, dry place. Replace cap securely to avoid deterioration of contents. Keep out of reach of children.
Composition:

Aqua, Ethanol (45%), Chastetree berry (Vitex agnus-castus)