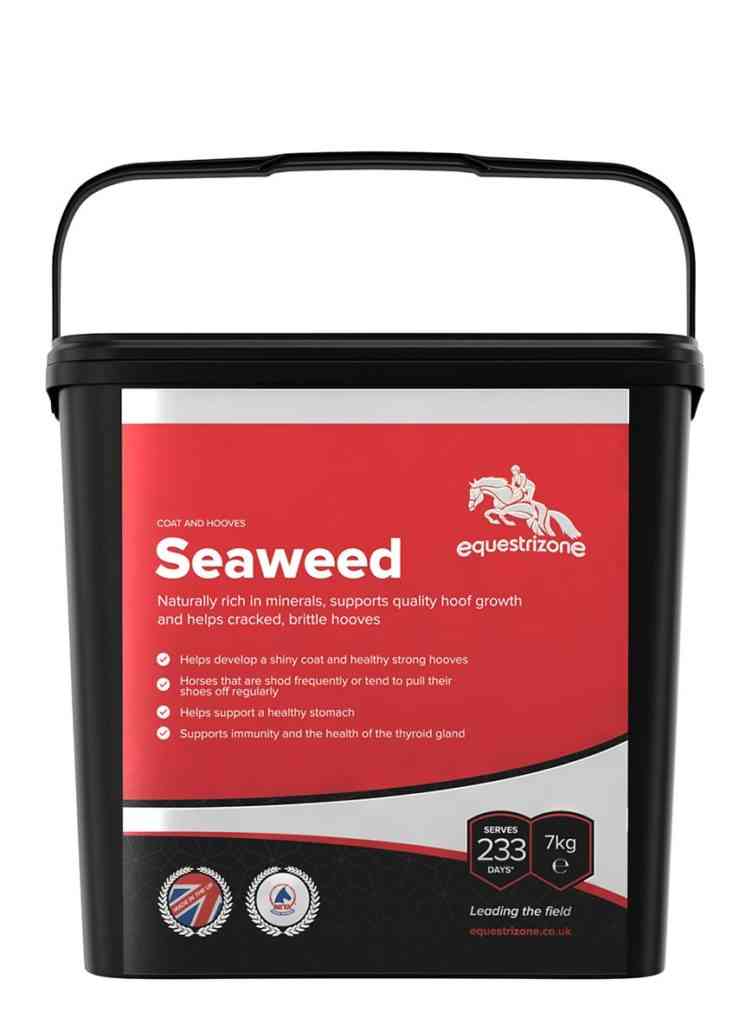 SEAWEED 2.5KG TUB
Naturally rich in minerals, supports quality hoof growth and helps cracked, brittle hooves​.
✓ Helps develop a shiny coat and healthy strong hooves
✓ Horses that are shod frequently or tend to pull their shoes off regularly
✓ Helps support a healthy stomach
✓ Supports immunity and the health of the thyroid gland

Seaweed for horses is one of the richest vegetable sources of essential amino acids, vitamins and minerals on the planet. The combination of nutrients it contains work together to enhance your horse's diet and it helps your horse to make the best possible use of the nutritional goodness of the rest of its diet. In addition to essential nutrients, seaweed contains health-promoting polysaccharides.
The seaweed meal for horses sourced by Equestrizone is harvested from the pure clean waters of the Outer Hebrides and handled, stored and processed with the greatest care to ensure it is never contaminated at any stage between growing in the sea and reaching you, the customer.
Seaweed for horses supports good joint mobility and is a useful supplement for horses to naturally support musculoskeletal health. It will give horses a glossy, shiny coat and healthy, strong hooves. Seaweed has traditionally been used for obesity, and it may be a useful adjunct for horses or ponies on a weight loss regime.
Users have also reported good rates of fertility, good temperaments and general good health in horses fed seaweed, probably due to its immune-supporting effects.
Seaweed for horses contains:
Calcium

Concentrated proteins

Healthy carbohydrates

More than 60 minerals including iron, magnesium, sodium and iodine

Vitamins including A, B1, C, E and K

20 amino acids – including all the essential amino acids
Feed to:
Add essential nutrients to the diet

Help support good joint mobility

Help support an even temperament

Support immunity and the health of the thyroid gland

Help develop a shiny coat and healthy strong hooves

Develop greater stamina
FEEDING DIRECTIONS G PER DAY SCOOPS PER DAY
Heavy horse (700kg and over) 50 2.5
Average horse (400 - 700kg) 30 1.5
Pony (up to 400kg) 15 0.75
Pregnant mare 5-25 0.25-1
A 2.5kg tub fed at 30g per day will last 83 days
A 7kg tub fed at 30g per day will last 233 days
A 25kg bag fed at 30g per day will last 833 days (no scoop enclosed)
1 x level 25ml scoop = 20g
Seaweed (Ascophyllum nodosum) meal, grown and sustainably harvested. Guaranteed free of heavy metal contamination
A feed material for horses. Store in a cool, dry place. Replace lid securely to avoid deterioration of contents. Keep out of reach of children