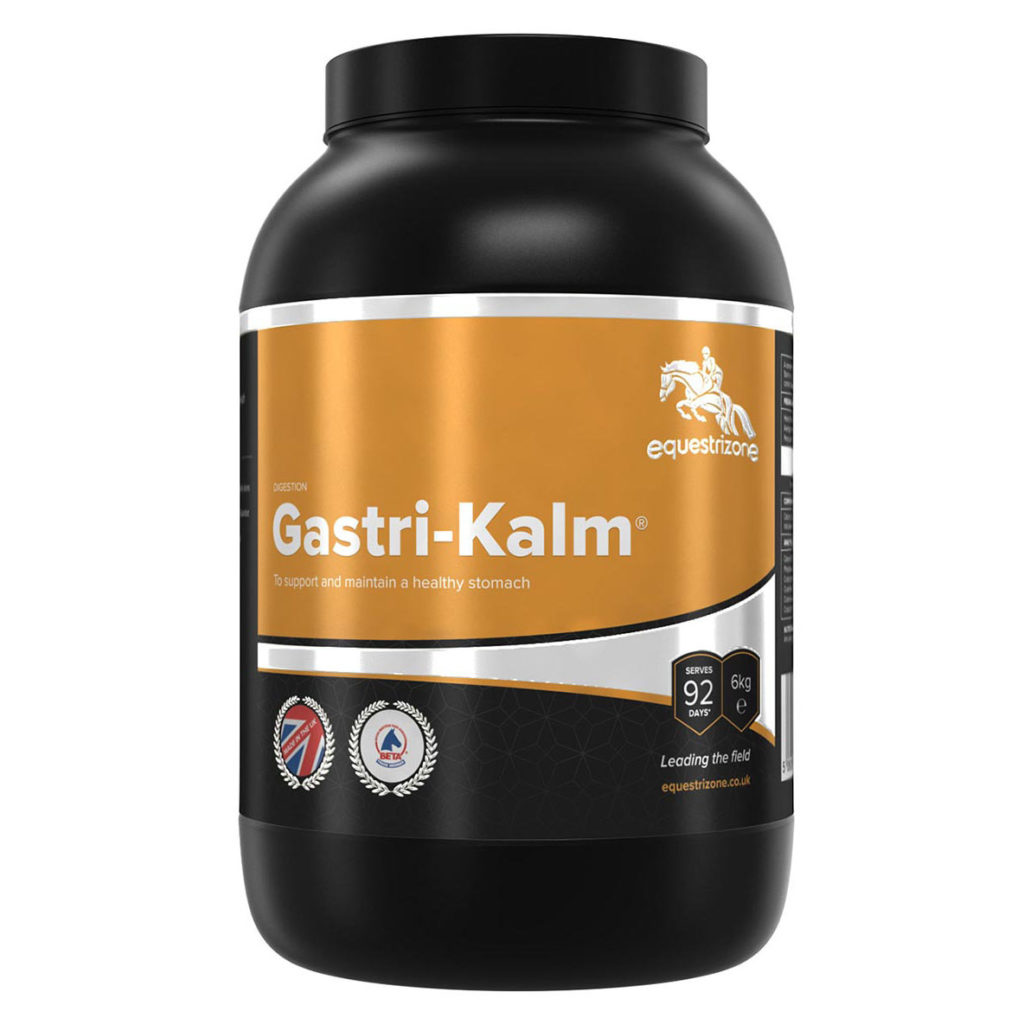 GASTRIKALM® 2KG TUB
To support and maintain a healthy stomach
✓ For horses and ponies with or at risk of gastric ulcers
✓ For a poor appetite and signs of stomach discomfort
✓ Ideal for hard-working performance horses
✓ Essential for diets restricted in forage

Stomach (gastric) ulcers are common in all types of horses, especially hard working performance horses and those kept intensively. Prevalence rates of up to 90% (in racing thoroughbreds) have been reported, and all breeds and types can be affected.
Equestrizone Gastri-Kalm® has been formulated to support and maintain a healthy stomach, and to aid natural healing after ulcers. It contains antacids to mop up excess acid, stomach-soothing and healing herbs and soluble fibres, and the amino acid threonine for stomach lining support.
Management practices should support good stomach health, with plenty of forage, as much grass turnout as possible, limited starchy or sugary concentrate feed, and free access to water. Hard-working horses should be allowed access to forage or given a small meal of alfalfa chaff half an hour before exercise to help protect their stomach.
All hard working horses should be given extra stomach support, to help them deal with the pressures of their training regime. Feed Equestrizone Gastri-Kalm® to all hard working horses at risk of gastric ulcers, and to any who are at risk from other factors such as drug treatments or restricted forage intake.
Gastri-Kalm® contains these active ingredients:
Apple pectin

Calcium carbonate (antacid)

Liquorice root

Magnesium carbonate (antacid)

Seaweed fucoids (Ascophyllum nodosum)
Slippery elm inner bark (Ulmus fulva)

Soy lecithin

Threonine (amino-acid)
Gastri-Kalm® should be fed to all horses at risk of gastric ulcers including all those in hard work. The daily serving should be split between meals. Horses at risk of ulcers should be fed plenty of fibrous forage, limited concentrate feed, very low starch and should be turned out to pasture as much as possible.
Feed to horses and ponies:

With or at risk of gastric ulcers (including hard–working performance horses)

With a poor appetite who show signs of discomfort

Given non-steroidal anti-inflammatory drugs

On very restricted forage e.g. obese/weight-loss resistant/laminitic
FEEDING DIRECTIONS G PER DAY

SCOOPS PER DAY
Heavy horse (700kg and over) 130 2.5
Average horse (400 - 700kg) 65 1.25
Pony (up to 400kg) 32.5 0.75

A 2kg tub fed at 65g per day will last 30 days

A 6kg tub fed at 65g per day will last 92 days
1x level 50ml scoop (enclosed) = 50g

For best results, split between 2 feeds approximately 12 hours apart

Calcium carbonate, Lecithin, Magnesium oxide, Seaweed, Apple pectin, Liquorice root powder, Slippery elm powder
ACTIVE INGREDIENTS PER DAILY SERVING
| | | | |
| --- | --- | --- | --- |
| Nutrient | Unit | Amount per kilo | Amount per serve |
| Threonine | g | 76.923 | 5 |
| Liquorice root powder | g | 76.923 | 5 |
| Apple Pectin | g | 76.923 | 5 |
| Slippery Elm powder | g | 76.923 | 5 |
| Lecithin | g | 42.3 | 3 |
| Seaweed | g | 76.923 | 5 |
| Magnesium | g | 84.5 | 5 |
L-Threonine (3.3.1) 76,923mg/kg anti-caking agent: Silica (E551b) 225mg/kg
ANALYTICAL CONSTITUENTS
Calcium 12.5%
Phosphorus 0.1%

Crude protein 8.0%

Crude fibre 5.1%

Crude oils and fats 6.7%

Crude ash 51.6%
Sodium 0.2%

Acid insoluble ash 3.0%

A complementary feed material for horses. Store in a cool, dry place. Replace lid securely to avoid deterioration of contents. Keep out of reach of children