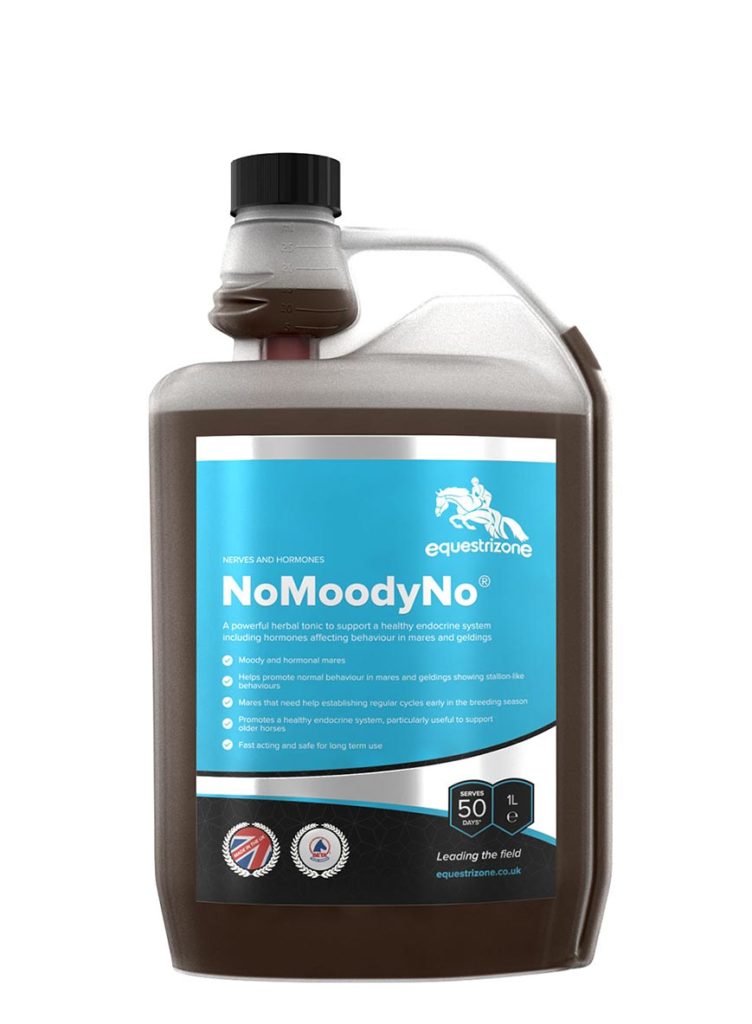 NOMOODYNO® 1L BOTTLE
A powerful herbal tonic to support a healthy endocrine system including hormones affecting behaviour in mares and geldings
✓ Moody and hormonal mares
✓ Helps promote normal behaviour in mares and geldings showing stallion-like behaviours
✓ Mares that need help establishing regular cycles early in the breeding season
✓ Promotes a healthy endocrine system, particularly useful to support older horses
✓ Fast acting and safe for long term use

No Moody No® is a powerful fast-acting herbal tincture for moodiness in fillies, mares and geldings caused by hormones. It is a viable alternative to other additions for this purpose.


Dealing with moody mares
Many mares and fillies become difficult, temperamental and unfocused during the spring and summer months – but for others, sadly, hormones affect their performance all year round. No Moody No® supports the ovarian region to offer relief and promote comfort.
Research has shown that Vitex agnus-castus for horses aids the pituitary gland and the hypothalamus to support the body's natural ratio of the hormones oestrogen and progesterone. It is these hormones that can lead to unwanted behaviours and discomfort for mares in season. The pituitary gland plays a major role in reproduction, digestion, growth, metabolic rate and ageing.
No Moody No® gives your horse all the benefits of Vitex agnus-castus in a concentrated form that is easily-absorbed into the bloodstream for speedy results.
No Moody No® is a natural, nutritional supplement which supports the body's normal hormonal activity and responses.


No Moody No® is:
A natural product

Fast-acting

Safe for long-term use

Safe for competition use
Feed No Moody No® to:
Moody and hormonal mares in season

Mares who need help establishing regular cycles early in the breeding season

Any horse showing aggressive or uncooperative behaviour

Geldings showing stallion behaviours such as aggression and mounting

Stallions to maintain excellent sperm quality
FEEDING DIRECTIONS ML PER DAY
Loading rate (1-10 days)* 20
Maintenance 10
1 litre fed at 20ml per day will last 50 days
*Repeat loading rate as required
DO NOT SUPPLEMENT TO PREGNANT MARES AND STOP FEEDING TO MARES TWO WEEKS PRIOR TO BREEDING
Maintenance levels may be adjusted to suit the individual and are not necessarily related to body weight. It is recommended to feed the loading rate for times of peak requirement
NoMoodyNo® can be used in conjunction with conventional medicines. There is no known toxicity level for vitex agnus-castus and the suggested feeding rates above may be increased if necessary
Purified water, Ethanol, 1:2 liquid extract of Chastetree berries (Vitex agnus-castus)
Crude ash <0.1%
Crude fibre <0.1%
Crude oils and fats <1.0%
Crude protein <1.0%
A complementary feed material for horses. Store in a cool, dry place. Replace cap securely to avoid deterioration of contents. Keep out of reach of children