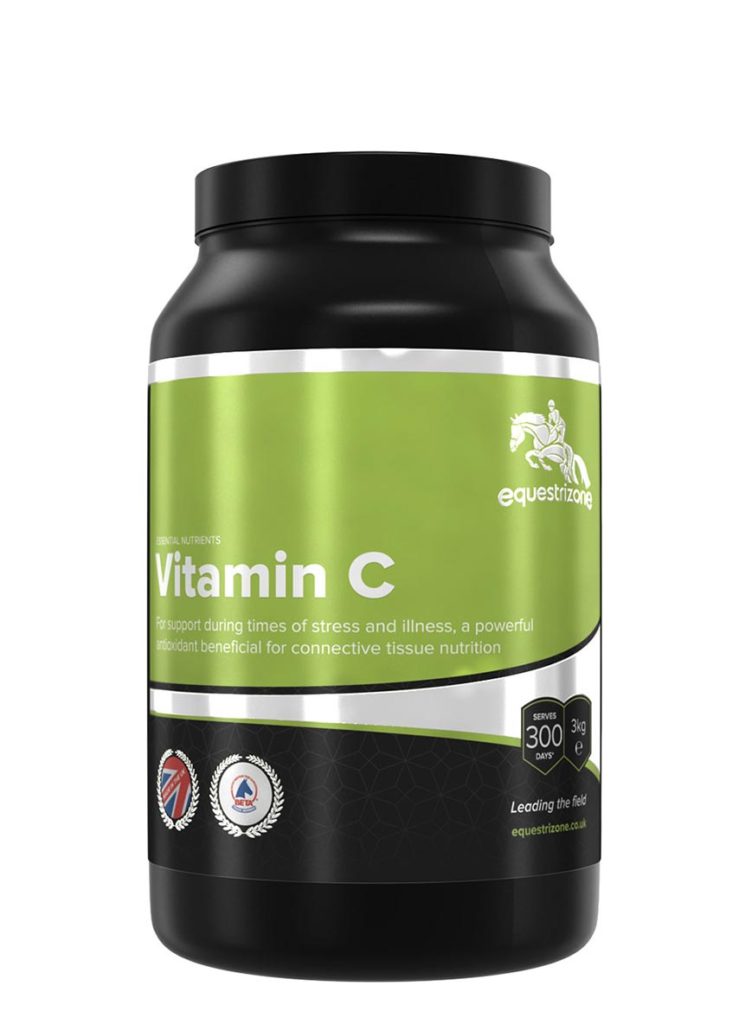 PURE VITAMIN C 750G TUB
For support during times of stress and illness, a powerful antioxidant beneficial for connective tissue nutrition
✓ Essential for connective tissue
✓ Useful for horses showing signs of stress, or illness
✓ Useful for older horses and ponies and those undergoing heavy exercise
✓ Recommended for joint, cardiovascular and periodontal support and for extra immune support

Why does a horse need vitamin c?
Vitamin C for horses is involved in hundreds of metabolic processes in the body and it is also vital to a healthy, efficiently-functioning immune system. It is an important water soluble antioxidant in the horse's body, which limits damage by neutralising free radicals.
In most situations, horses produce enough vitamin C in their own bodies to meet their needs. Eating green, leafy forage also tops up the horse's vitamin C levels, but there are circumstances where supplementing with vitamin C may be recommended.
During periods of stress or intensive exercise, or in the wake of illness or injury a horse may need more vitamin C than its body can produce. Infectious diseases and extreme cases of parasite infestation may deplete vitamin C production which is why the supplement is sometimes used when caring for rescued horses and ponies found in very poor condition.
Some research suggests that highly-strung horses that become over-stressed by training or racing may stop producing vitamin C – or produce far less. Horses with recurrent airway obstruction (RAO), which used to be called COPD, have depleted levels of vitamin C in their blood and lungs, and they should always be supplemented. All stabled horses could benefit from supplementary vitamin C to help support their airway function.
The source of vitamin C used in a supplement is important because the most commonly used type – ascorbic acid for horses – is not very bioavailable to the horse. Ascorbyl monophosphate, the type used in Equestrizone's Pure Vitamin C, is more bioavailable and is recommended by vets and nutritionists.
Benefits of vitamin c for horses:
Essential in the production of collagen, GAGs and other critical connective tissue elements

Neutralises free radicals during times of illness, injury and stress

Heavy exercise, illness, injury and stress and can result in loss of vitamin C

Horses with RAO are depleted of vitamin C and should always be supplemented

Horses on anti-inflammatory medication, corticosteroids or antibiotics may also have depressed levels of vitamin C

Recommended for joint, cardiovascular, and periodontal support, as well as stressed, geriatric, injured or horses who need extra immune support
FEEDING DIRECTIONS G PER DAY SCOOPS PER DAY
Heavy horse (700kg and over) 15 - 20 1.5 - 2
Average horse (400 - 700kg) 10 - 15 1 - 1.5
Pony (up to 400kg) 5 - 10 0.5 - 1
A 750g tub fed at 10g per day will last 75 days
A 1.5kg tub fed at 10g per day will last 150 days
A 3kg tub fed at 10g per day will last 300 days
1 x level 10 ml scoop (enclosed) = 10g
Serving may be doubled during times of increased stress
VITAMIN C SUPPLEMENTATION SHOULD NOT BE STOPPED ABRUPTLY BUT REDUCED GRADUALLY OVER 1-2 WEEKS
Vitamin C 350,000mg/kg (as sodium calcium ascorbyl-2-phosphate, 3a311)
ACTIVE INGREDIENTS PER DAILY SERVING (10g/ 1 scoop)
Active % Grams per scoop Actives per scoop (g)
Calcium 7.0%
Phosphorus 10.0%Sodium 14.4%
Crude Ash 65.0%
A feed additive for horses. Store in a cool, dry place. Replace lid securely to avoid deterioration of contents. Keep out of reach of children