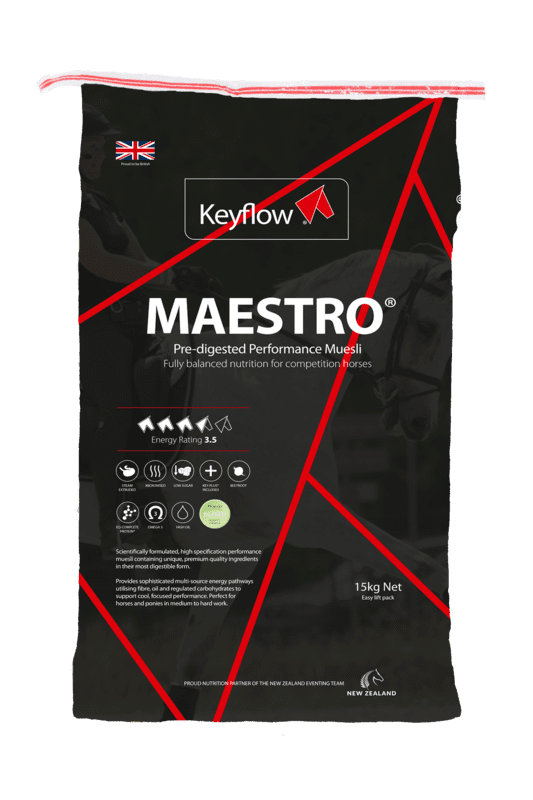 KEYFLOW MAESTRO 15KG BAG
Maestro is the ultimate 'slow release energy' competition feed.
We ask a lot from our 'hard working' competition horses – who are usually in a rigorous weekly routine of schooling exercises (building elastic, strong muscles AND mental focus), fitness (cardiovascular), as well as requiring them to travel, compete, and then repeat, throughout the competition season.
Like for any athlete (equine, human or otherwise!), creating a diet to support this demanding workload is so important – and when a few extra points earned, or seconds saved, can mean the difference between first and fifth, it is understandable why Maestro has become a product of choice for so many of our competing customers.
It is designed to meet the increased energy demands of a hard-working horse (especially over multiple-day competitions), whilst providing a nutritional package specifically designed to:
• aid muscle repair and recovery so your horse can work consistently
• support muscle growth
• aid mental concentration with quality 'brain food'
• assist blood flow and circulation for faster recovery times after exertion
• provide more energy for an increased workload, whilst being non-heating
• be gut friendly, with low feeding rates (for those horses who lose their appetite when their fitness increases!)
Maestro is used and trusted by the World's top riders:
High-spec cool competition mix for horses in medium to hard work

Superior digestibility with maximum nutrient absorption

Low sugar, optimal starch

Stabilised rice bran provides non-heating on-demand energy

Added Protexin® Pro-biotic for improved gut health

Contains Beetroot – a natural source of nitrate for muscle function

Omega 3 rich through the use of cold-pressed rapeseed oil

Simply feed with fibre

Add Key-Plus for extra condition as required