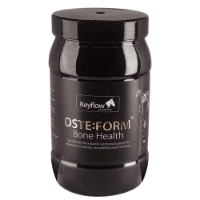 OSTE:FORM® 1KG TUB
Oste:form is a scientifically formulated nutritional supplement designed to provide support for equine bone density, remodelling and formation.
It's unique formulation containing essential nutrients for healthy bone metabolism supports optimal bone remodeling in youngstock as well as mature horses. It contains natural Vitamin K to support the function of osteocalcin, allowing bone with the correct density to be formed.
It also includes Vitamin D for it's beneficial effects on bone health and calcified seaweed, a unique source of calcium, silicon and boron which is scientifically substantiated for its positive effects on skeletal structure and development.
NUTRITIONAL VALUES

Calcified Seaweed, Vegetable Powders (including Spinach, Kale and Nettle), Chelated Calcium and Mineral Oil




FEEDING GUIDE

Per horse, per day. Mix thoroughly with hard feed. Keyflow Pink Mash is ideal for mixing this product into.

Below 2YO (Foals/Yearlings)

Maintenance 10-15 grams per day

Horses at risk 25-30 grams per day

2YO and over

Maintenance 25 grams per day

Horses at risk 50 grams per day

1 x heaped 25ml scoop (enclosed) = 25g

A 1kg tub fed at 25g per day will last for 40 days

Store in a cool, dry place. Replace lid securely to avoid deterioration of contents. Due to the high concentration of vitamin D3 this product should not exceed more than 1% of the daily feeding ration.

TYPICAL ANALYSIS

Protein 0.6%

Oils & Fats 2.16%

Fibre 3.6%

Ash 26.16%

Calcium 12.82%

Phosphorus 0.02%

Sodium 0.36%

NUTRITIONAL ADDITIVES

Vitamin D3 320,000 iu/kg

Vitamin K 280.2 mg/kg