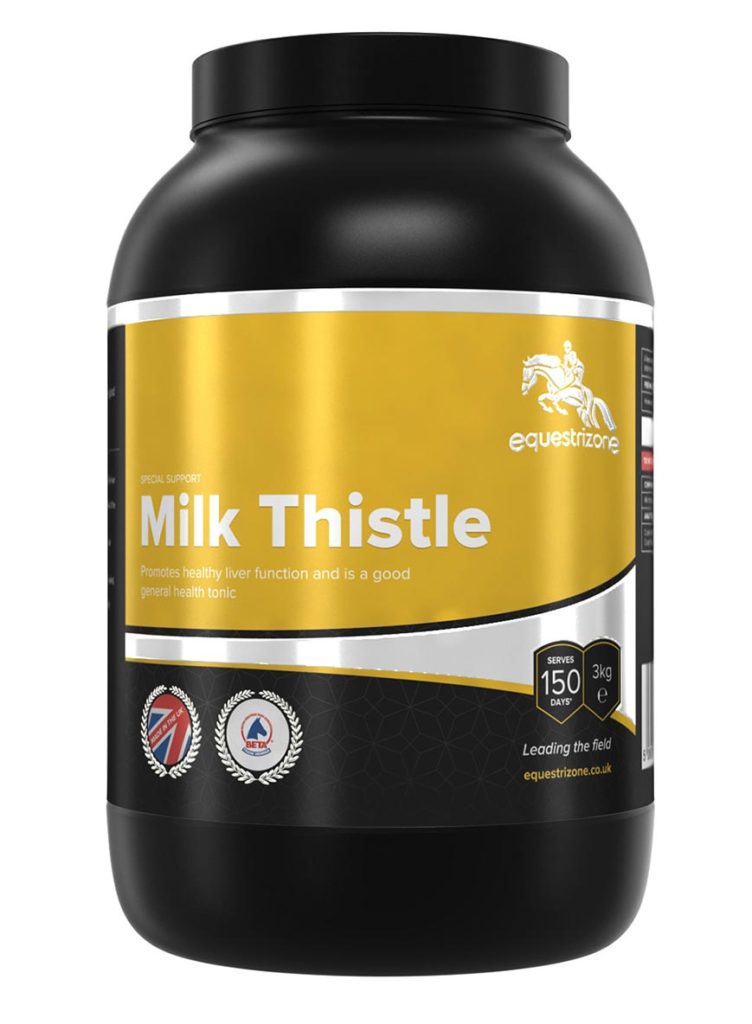 MILK THISTLE 3KG TUB
Supports healthy liver function and is a good general health tonic.
✓ Supports organ function, especially that of the liver
✓ Supports the natural regenerative processes of the liver cells
✓ Horses with raised liver enzymes or other liver challenges
✓ Useful as a spring tonic (feed for at least 4 weeks)
✓ Horses with liver-dysfunction associated skin challenges

Milk thistle for horses can be used to promote a healthy liver and, as a result, give nutritional support for healthy skin. It is rich in antioxidants and cleanses and detoxifies the body and helps support new liver cell growth.
Milk thistle seed contains the active ingredient of the silymarin complex. Milk thistle leaf, is not rich in silymarin, and is not a substitute for milk thistle seed.
Milk thistle horse supplement contains:
Essential oils

Linoleic acid – an essential fatty acid

Protein

Silymarin complex which includes three flavonoids – silibinin, silicristin and silidianin – which are potent antioxidants and fight free radicals
Feed to:
Horses who need extra support for the liver

Give nutritional support to the kidneys or pancreas

Horses for skin support, associated with liver function
FEEDING DIRECTIONS G PER DAY SCOOPS PER DAY
Horses and ponies 10 - 30 1 - 3
A 1.5kg tub fed at 20g per day will last 75 days
A 3kg tub fed a 20g per day will last 150 days
1x level 25ml scoop (enclosed) = 12g
*DO NOT SUPPLEMENT TO PREGNANT MARES OR THOSE DUE TO CONCEIVE*
100% Milk thistle seeds (Silybum marianum) dried and powdered.
Crude oils and fats 26.1%
A feed material for horses. Store in a cool, dry place. Replace lid securely to avoid deterioration of contents. Keep out of reach of children