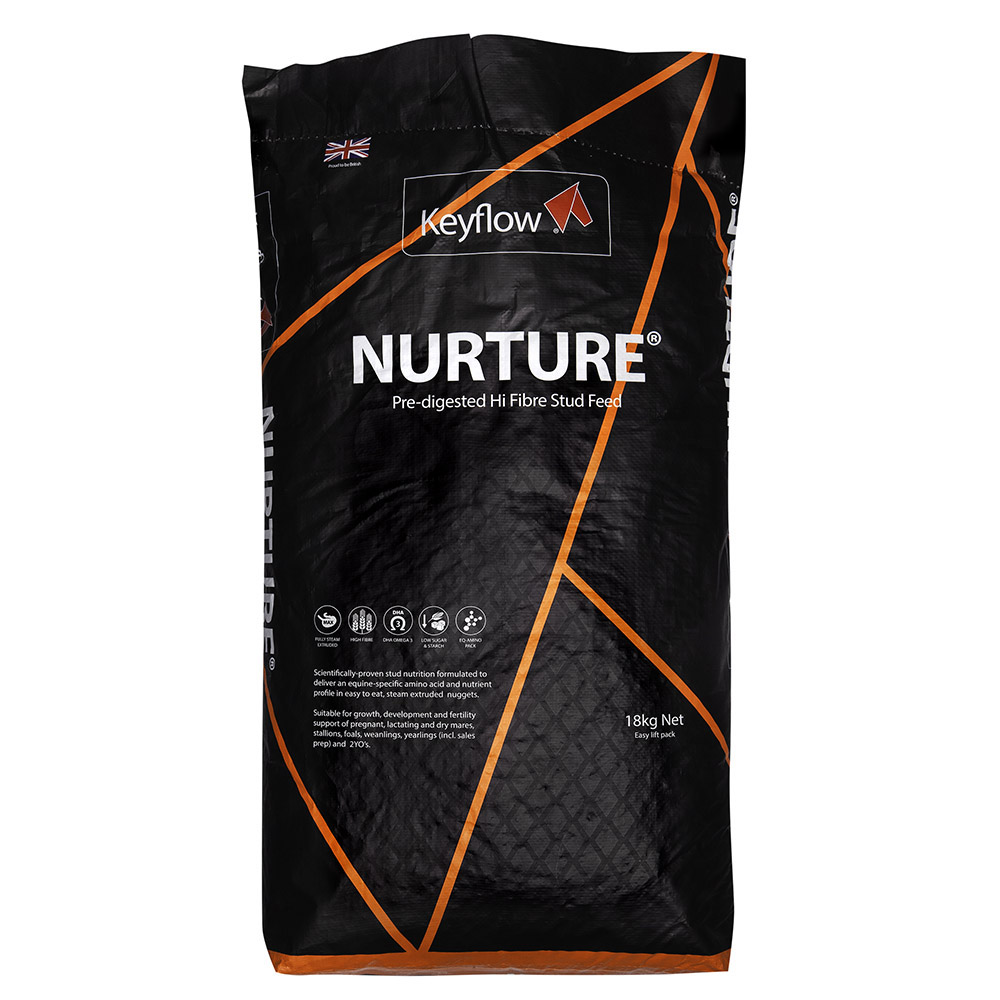 KEYFLOW NURTURE 18KG BAG
Keyflow Nurture® Pre-digested Stud Feed has been scientifically formulated by world class equine stud nutritionists to an uncompromising specification. The concentrated hi fibre nuggets are ideal for all equine stud animals who have restricted access to quality pasture as well as any horse who requires high level support for musculature and skeletal development and growth.
Nurture® is molasses free but highly palatable whilst remaining very low in sugar and starch. The feed has been pre-digested by way of steam extrusion for maximum nutrient absorption. Nurture® contains the long chain omega 3 fatty acid DHA which has been shown to support semen motility, mare postpartum recovery as well as foal development and behaviours. The unique protein sources used in Nurture® (EQ Amino Pack) are of the highest quality with an amino acid profile carefully matched to that of the equine – supporting even, optimal growth and development.
Presented in larger hi-fibre, steam extruded nuggets, Nurture® is particularly easy to chew and digest (including for foals) making it easy to pick up when dropped, or if being fed over hay in the field.
Our highest spec'd full feed to date:
High in Super-Fibre (20% Fibre)

"Predigested" to increase digestibility to over 90% = low feeding rates with higher absorption

DHA Long Chain Omega 3 – the benefits of DHA and it's superior bio-availability are countless, especially for working Stallions, and newborn foals.

'EQ Amino Pack' Premium Protein sources used – with an amino acid profile to match that of the equine makeup

Very low (no added) sugar

Low in starch

Very palatable and easy to eat for all aged horses

These features with no compromise on quality make Nurture ideal for all types of breeding horses and youngstock.

It also makes Nurture perfect for horses who are in need of extra muscle mass and body development.