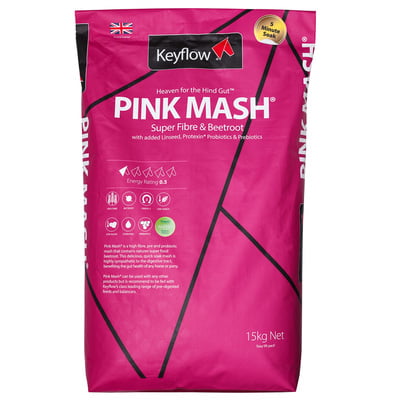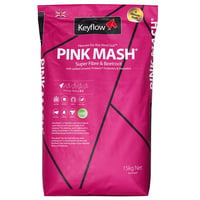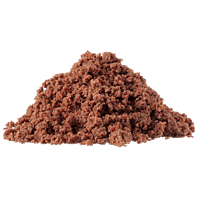 KEYFLOW PINK MASH 15KG BAG
Pink Mash® is the class leading soaked fibre feed designed to nurture and support hindgut microbiome health. With super-fibre,
beetroot
, micronised linseed, prebiotics and concentrated
Protexin® probiotics
, this highly palatable and versatile mash is economical and highly effective.
This product is suitable for any horse or pony including those at risk of laminitis / horses at risk of stomach ulcers / aged horses and ponies / bare foots / racehorses / performance horses / stallions / broodmares / youngstock / horses at risk of any gastric and digestive upset
Keyflow® Pink Mash® is a delicious quick soak mash which provides a significant source of highly digestible super fibre combined with natural antioxidants from beetroot. World renowned probiotics from Protexin® and prebiotics are added to support and stabilise the microbial balance in the hind gut, allowing for more effective and efficient fibre fermentation, better feed conversion, general horse health and gastric comfort. Micronised linseed is included to carefully balance the omega 3 to 6 ratio of the feed.
Pink Mash® does not contain added vitamins and minerals making it ideal to add to any existing equine diet without risk of causing imbalance. Pink Mash® is cereal and molasses free, extremely low in starch and sugar and can be safely fed to any horse or pony. Pink Mash® can also be fed to partially replace hay or haylage in the diet when needed. Pink Mash® is useful and effective to help maintain and restore hydration. A small amount of the product can be added to a bucket of water to encourage drinking during travelling, competitions or as required.
Guidelines for feeding:
Do not use boiling water to soak as it may harm the live probiotics which do not like exposure to high temperatures. For best results soak fresh and fed within 2 hours rather than leaving soaked overnight or throughout the day.
Pink Mash® is recommended to be fed with Keyflow's class leading range of pre-digested feeds and balancers, please explore our website or get in touch with our friendly expert advice team using the help & advice section above to discover your perfectly balanced feeding plan.
Why Pink Mash® is Heaven for the Hindgut:

40% Fibre

Highly-digestible

Suitable for fussy feeders due to its palatability

Contains beetroot to boost natural anti-oxidants and also act as a natural pre-biotic

Virtually no sugar (<2%)

Low starch to maintain gastric, muscular and digestive health (<2%)

Suitable for horses with ulcers or those prone to colic

Contains high-levels of Protexin® Probiotic to stabilise and support hindgut health

Feed with any diet – no vitamins and minerals means there is no risk of imbalance

Soaks in 5 minutes

Great for senior horses that struggle to chew